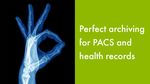 Protection of patient data
The patented iTernity software stores any data generated by various applications used by healthcare providers, such as PACS, EHR, ERP, ECM, E-Mail, for as long as it is required. Our solutions protect the data from data corruption, loss, deletion, and modification.
With its features, the long-term integrity and availability of data, which are crucial to patient care, can be guaranteed.