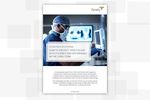 Whitepaper: How to protect healthcare data in the long term, flexibly, and cost-effectively
The increasing demands on data storage in healthcare present many IT managers with enormous challenges and uncertainties. How can the growing volumes of data from PACS etc. be managed in a future-proof manner? How can overall costs and time be reduced? How can data integrity and availability be secured in the long term?
Read the white paper to learn how you can create secure, flexible, and cost-effective healthcare data storage and archiving which can withstand increasing IT demands over the long term.
Download whitepaper