iTernity develops software solutions for the protection and long-term integrity of all types of corporate data. Our Software-Defined Archiving approach is the foundation to future-proof data storage, providing hardware independence, unmatched flexibility, and legally compliant archiving at a low total cost of ownership. Discover all about Software Defined Archiving with us!
Discover the world of Software-Defined Archiving and iCAS
Get in touch with our experts!
Do you want to learn more about iCAS and Software-Defined Archiving?
Don't hesitate to ask us for further information or a free 20-minute Online-Demo!
Upcoming - our next top event
Tuesday,

18.06.2019

-

Thursday,

20.06.2019

iTernity will be an exhibitor and sponsoring partner at HPE Discover 2019 in Las Vegas.
Read more …
iTernity and HPE - partnering for our customers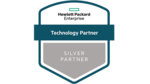 iTernity and Hewlett Packard Enterprise are collaborating for many years to bring increased value to our customers.
We know that acquiring technology is only the first step in achieving a business goal. The technology pieces need to work together. They need to provide rich functionality, quickly and effectively, so you can concentrate on your business needs. To help satisfy these needs, iTernity is a member of the HPE Partner Ready for Technology Partner program. iTernity is also part of the HPE Complete program that enables to purchase iTernity solutions directly with HPE from its global price list.
Find out more about our partnership with HPE
Our References
More than 1,200 customers, spread all over the globe and representing all kinds of industries, entrust their data to iTernity solutions. It's iTernity´s strength to solve diverse needs with only a few powerful and flexible solutions. They are often implemented as an important part in the data management processes by providing our customers with a central, secure, and cost efficient data platform for various use cases.
Our software & technology partners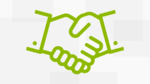 At iTernity the term "partner" isn't just referred to the sales channel but it rather identifies a close cooperation with archive, DMS, ECM and storage system manufactures as well as software houses and system integrators.
Within a data archive strategy, iCAS is the connecting point of many applications and one of the components needed to create a successful archive solution. In the same manner a close cooperation with our partners network allows all parties to benefit from iCAS based successful implementations. Find out more about our technology-, software-, and reselling partners!