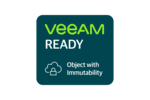 Backup & Recovery with Veeam & iTernity
The choice of backup software and storage infrastructure is crucial in the fight against data loss and ransomware. With Veeam & iTernity you can make your data protection fit for the future and reduce complexity, costs and effort.
iCAS FS is a "Veeam Ready"-qualified scale-out storage platform, which can be used as "Immutable Object Repository" and "Linux Repository". Thanks to S3 Object Lock and a closed system, iCAS FS minimizes the IT attack surface and protects your backups, archive data and more.
Discover Veeam & iCAS FS