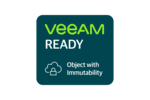 Backup & Recovery with Veeam & iTernity
iCAS FS qualified as "Veeam Ready" for the new version Veeam v12
The choice of backup software and storage infrastructure is crucial in the fight against data loss and ransomware. With Veeam & iTernity you can make your data protection fit for the future and reduce complexity, costs and effort.
iCAS FS is a "Veeam Ready"-qualified scale-out storage platform, which can be used as "Immutable Object Repository" and "Linux Repository". Thanks to S3 Object Lock and a closed system, iCAS FS minimizes the IT attack surface and protects your backups, archive data and more.
iCAS FS is now officially qualified as "Veeam Ready" for data protection and immutable ransomware protection as performance and capacity tier for the latest version Veeam Backup & Replication™ v12.
Discover Veeam & iCAS FS