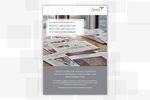 Archiving of tax-relevant accounting data to fulfill legal requirements
Digitalization has had a powerful impact on the publishing sector. Publishers have to produce digital content to reach their readership even in digital media. Therefore, a far greater effort is required for production and distribution than for conventional publications. For that reason, a secure long-term archive is a crucial factor for accessing existing digital products. The development of internal IT infrastructures will be of particular importance in meeting regulatory requirements and in modernizing archiving systems, even in publishing company structures. For example, tax-relevant accounting data like invoices and receipts have to be stored in a long-term archive.
The Deutsche Apotheker Verlag (DAV) is the largest pharmaceutical publisher in Germany. Currently, the enterprise is aiming to virtualize the IT infrastructure step by step, and to integrate a long-term archive into this concept. Compliance with legal regulations for archiving all accounting data is paramount in this process. "One requirement was ensuring long-term data security to comply with legal requirements. By protecting the data from manipulation and changes with a WORM functionality, this requirement can be fulfilled," says Markus Bantleon, Deputy Head of IT Service Management at DAV Media. The audit security of the new software-based archiving solution has been examined in compliance with the "principles of computerized accounting systems" (GoBS) by KPMG. Moreover, the audit of the solution could be completed very quickly.
Read the complete case study