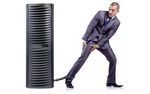 EMC Centera is dead!
Dell EMC announced End-of-Life of Centera for March 2018. However, replacing your legacy archive with another proprietary platform only shifts the problem of vendor lock-in to the future if the Centera CAS API remains in use.
The new approach of 'Software-defined Archiving' helps you to overcome limitations and disadvantages of legacy archiving silos. You can turn the situation into an opportunity to unchain your business data and change to a future-proof archiving solution!