"Our costs for the overall archive solution have fallen by around 20% because of the switch to iCAS. If we compare the net costs for the archive storage, which are the license and support costs without the virtualization costs, we are even talking about a 47% cost reduction compared to the previous NetApp archive."
Markus Bantleon
Deputy Head of IT Service Management at DAV Media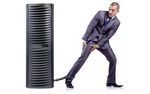 EMC Centera is dead!
Dell EMC announced End-of-Life of Centera for March 2018. However, replacing your legacy archive with another proprietary platform only shifts the problem of vendor lock-in to the future if the Centera CAS API remains in use.
The new approach of 'Software-defined Archiving' helps you to overcome limitations and disadvantages of legacy archiving silos. You can turn the situation into an opportunity to unchain your business data and change to a future-proof archiving solution!