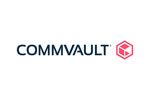 iTernity and Commvault are Alliance Technology Partners
The scale-out platform iCAS FS is a qualified backup target for Commvault backups
iCAS FS is a validated S3-compatible Object Storage Library for Commvault. iCAS FS is a scale-out platform for backup, archive and business critical data of all kinds. The software-defined storage platform scales without limits, and impresses with low TCO, great ease of use and high flexibility.
Ensure data availability for all workloads across cloud and on-prem environments with Commvault Backup & Recovery, delivering:
Simple, comprehensive backup and archiving from a single extensible platform and user interface
The industry's broadest workload coverage for cloud, on-prem, SaaS, virtual, physical, application, databases, and more data sets
Trusted recovery including rapid, granular recovery of data and applications
Resilient ransomware protection and end-to-end data security with encryption
Flexible data reuse with copy data management to facilitate DevOps, perform security testing, test patches and upgrades, and more