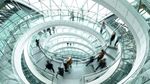 Protect increasing data volumes cost-effectively
Public Sector
Schedule a demo
Schedule a free online demo
Do you want to learn more about our solutions? Discover how iTernity can help you solve your data storage and archiving challenges in a customized demo.
Long-term protection of sensitive data
Public sector institutions need to correctly manage and store enormous amounts of data with very different and often sensitive data for the long term. Our solutions help public institutions provide a centralized archive and storage platform for their data that needs long-term protection. We ensure data integrity, security, ransomware protection and provide a cost-effective storage solution to meet regulatory and internal requirements.
Certified and cost-efficient
The features and compliance suitability of our solutions have been audited and certified by KPMG and Cohasset Associates. We know that the cost of storage and archive projects often exceeds available budgets in public sector organizations. That's why iTernity solutions enable cost reduction at various levels, e.g. via the "pay as you grow" licensing model, low management costs, no hardware lock-in and easy data migrations. See for yourself!
Our certified and patented storage and archiving solutions are state of the art and enable the fulfillment of complex archiving requirements. iTernity solutions reduce the risk of data loss or manipulation. The software solutions are able to continuously check data integrity and automatically repair damage and replace missing data (self-healing).