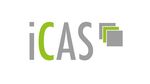 Flexible long-term archiving with integrity protection
iCAS defines audit-proof data storage and long-term archiving in a new way! The software solution ensures compliance with various legal standards (GDPR, GoBD, Basel III, SOX, HIPAA, SEC 17a-4, etc.) and provides a secure platform for various data sources and business applications, including DMS, ECM, ERP, PACS, e-mail.
In this way, iCAS ensures long-term data integrity and availability, even as storage technology and hardware change in the future. As a software-defined solution, iCAS lays the foundation for legally compliant data archiving - flexible, future-proof and cost-efficient!