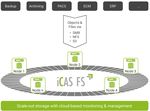 So that archiving works like a dream and doesn't turn into a nightmare: What should an archiving system look like in a perfect world?
The archive does what it is supposed to do: Store and protect data from different sources, for the long term, and meet all regulatory requirements
The system identifies sources of error and fixes them independently
You have no touchpoints and no workload with the system
The capacity grows in relation to the requirements and can be extended easily and limitlessly
The total costs are transparent and, most of all, low
The system is robust, secure, and highly available
The archive is designed for future changes and is independent
Investments in software and hardware are protected
You can rely on your archive and so focus on your core business
This scenario was the drawing board for the development of iCAS FS. It took us a lot of brainwork, passion, a little bit of cheekiness and many years of experience. We are proud of the result! Convince yourself and turn the perfect world scenario into reality with iCAS FS.