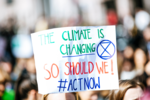 Our goal: climate neutrality
iTernity's work is designed for longevity. We secure enterprise data for decades and our mission is to bring that data securely into the future. We want to carry our mission forward and create awareness for sustainable and long-term business.
For this reason, we have set the goal to become carbon neutral. This does not mean that we as iTernity do not produce any emissions. Our goal is to offset our carbon footprint through meaningful climate protection projects and to firmly embed an understanding of sustainability in our actions.
For our Company Carbon Footprint, we took a close look at the areas of energy, travel and everyday consumption and calculated our CO2 emissions for the year 2020. We donate the compensation amount for these emissions to an exciting Atmosfair project in Madagascar and to the NatureOffice DeutschlandPlus Black Forest project.
Read the complete climate report 2020