"Many requirements of the GDPR are easier to implement based on a central archive storage platform. First, the GDPR requires a review and optimization of existing business processes. Technology is only the second step, but it can be crucial for the implementation and continuous compliance."
Werner Bachmann
Lawyer with focus on IT Compliance and Privacy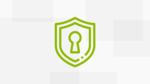 New regulations for wide-ranging privacy
For many companies the General Data Protection Regulation (GDPR) is associated with enormous risks and uncertain costs - since May 25, 2018 the new regulations for wide-ranging privacy must be implemented. The EU takes the gloves off: up to 4% of the global annual turnover or € 20 million penalty may be due in case of serious offenses! Keywords such as the right to be forgotten, integrity protection, encryption and privacy-by-design are part of the agenda and must urgently be implemented. As a software-defined storage and archiving solution, iCAS provides the foundation for GDPR-compliant data management.
Download our GDPR checklist