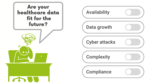 Hospital IT offers enormous potential: better care for patients, more efficient processes for the hospital and thus the opportunity to compete and secure future viability. Just as diverse as the data that ensure smooth hospital operations are the challenges related to data management that IT managers in healthcare are confronted with every day.
Together for reliable patient care
We help you save time, costs and personnel resources in healthcare data storage.
The result: more security, less effort, no worries.
References
"iCAS FS is a highly critical system for us. The archive is elementary for the daily work and operation of our casualty hospitals. The switch to iCAS FS has also paid off on the cost side: thanks to iTernity's software-defined architecture and managed services approach, we were able to reduce our storage costs by 60%."
Christian Zellermayer
Deputy Head of Department, Information and Communication Technology at AUVA
Strong partners for the optimal hospital solution
We are proud of our strong network of software partners:
termin
Shedule an appointment with our experts
Discuss your questions and challenges with us in a personal appointment on site at DMEA in Berlin or in an online meeting - write us your preferred date and we will get back to you.