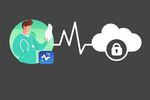 Secure data storage & ransomware protection in the cloud for clinics and hospitals
Is data in the cloud secure? A common way to protect sensitive patient data is to permanently back up the data on a medium outside the local infrastructure - for example in the cloud. Clinics and hospitals are increasingly less reserved about the cloud, yet skepticism and prejudice still prevail.
Werner Bachmann, a lawyer specializing in IT compliance and data protection, explains in an interview why data storage in the cloud can be more secure than in your own data center and at the same time provide effective protection against ransomware.
Read the article