Somentec Software GmbH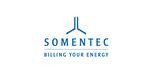 Somentec Software GmbH is one of the leading solution providers for the energy and water industry.
Approved Solutions
XAP.
Supported via iTernity File-System-Gateway (iFSG)
Approved by project based validation
Do you need an individual offer?
For further information, a free iCAS demo or an offer, please use the following form or simply give us a call.