Prosolution AG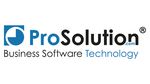 Prosolution offers consultant services, programming and project management. Their document management solution DocuExpert captures any type of mass data.
Approved Solutions
ProSolution DocuExpert
Supported via iTernity Webservice API
Do you need an individual offer?
For further information, a free iCAS demo or an offer, please use the following form or simply give us a call.