Prisma Gesellschaft für angewandte Informatik mbH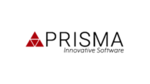 Prisma Software, founded in 1998, develops and distributes successfully software for medium-sized enterprises.
Approved Solutions
PRISMA UpToNet
Supported via iTernity File-System-Gateway (iFSG)
Do you need an individual offer?
For further information, a free iCAS demo or an offer, please use the following form or simply give us a call.