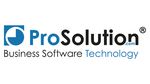 ProSolution has been developing and supporting web-based and mobile software products since 2000 with the necessary continuity and professionalism. The company is a leading solution provider in the areas of:
WorkExpert - web-based ERP software for personnel service providers
ProSolution go! - digital time management
ProSolution talents! - digital applicant management
ProSolution docs! - audit-proof storage & location-independent data access


Our concept proves us right. Our Software as a Service (SaaS) is innovative, lower costs and user-friendly (no installation). We are successful on the national and international market thanks to our innovative technologies.