LORENZ Orga-Systeme GmbH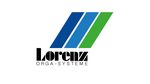 Archiving, document management and workflow are the core competencies of LORENZ Orga-Systeme GmbH.
Approved Solutions
2Charta® DMS
2Charta® FlowManager
Supported via iTernity File-System-Gateway (iFSG)
Do you need an individual offer?
For further information, a free iCAS demo or an offer, please use the following form or simply give us a call.