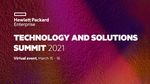 EXCITING PARTNERSHIPS AND FLEXIBLE PROTECTION OF BACKUP AND ARCHIVE DATA
iTernity is part of HPE TSS 2021! Look forward to presentations and information from HPE and iTernity around new exciting partnerships, secure backup storage, protection against ransomware attacks and our managed device concept.
Since 2008, the partnership between iTernity and HPE has enabled countless exciting projects around the world. Learn more about how the collaboration will be strengthened in the future, what new synergies will be created and what product updates are coming at HPE TSS.
Please note: HPE TSS 2021 will be an online event.
More information