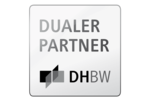 We are an accredited partner of the Baden-Wuerttemberg Cooperative State University Lörrach (DHBW) for the study programs computer science, business informatics, and business administration. Thus, we offer you the opportunity to optimally prepare for your professional career. A dual study program allows you to combine theory and practice in the best possible way so that you can apply your knowledge directly in your everyday work. In concrete terms, this means that you will study at the DHBW for three months each semester, and then apply and deepen your theoretical knowledge in the three-month practical phase at iTernity.
We also offer internships in technical and commercial fields, as well as the opportunity for final papers or internship semesters. You will be integrated into our work structures, work on exciting projects, and take on your own tasks independently. While working on a paper on a current topic, you can get to know our company better while advancing your studies. Part-time work during your semester and full-time work during the semester break are also both possible.
What we offer you:
Dual studies in the field of Business Informatics & Business Administration in cooperation with DHBW Lörrach
Final papers
Practical semesters
Jobs alongside your studies
Student internships
Apply now!